Team up with your friends and go explore the peculiar universe of ADIOS Amigos. A game with serious astrophysics in a comic setting for 1-4 players.
We are aiming for a Spring 2018 release for Xbox One, Playstation 4 and Steam. Subscribe to our mailing list, follow us on Twitter, Youtube and Facebook so you don't miss any news!
In ADIOS Amigos, we have added twice as much content and variation. The game has also been improved in almost every area, including the addition of split screen co-op, interplanetary space shuttle and autonomous space stations with explorable interiors.
With Rookie Mode players of different skill levels can play together (for instance: the whole family). Dynamic team-based split-screen keeps the screen estate to a maximum for all four players.
Check out the preview of ADIOS Amigos from when it was played by Big Boss Battle at Sweden Games Festival. Or perhaps, read the article about Stockholm Indie Game Dungeon and ADIOS Amigos by Gamereactor.
---
Announcing: ADIOS Amigos!
After the 2016 release of 'Amazing Discoveries In Outer Space' (ADIOS) for PlayStation 4 the Cosmic Picnic team decided to expand the game and release it for to PC, Xbox One and PS4.
Check out the article about Stockholm Indie Game Dungeon and ADIOS Amigos by Gamereactor.
---
'Amazing Discoveries In Outer Space' is out now on PS4
An odyssey through the galaxy where physics-based space-flight and platforming action blend seamlessly together. Amazing Discoveries In Outer Space (ADIOS) is a roguelite spacesim platformer!
Europe: Get it on Playstation Store | North America: Get it on Playstation Store
Explore a colorful universe filled with amazing discoveries, alien races, and fashionable hats. Unfortunately, your only company is ZING, a navigation computer with no memory of your whereabouts and a slightly faulty social circuit.
ADIOS is beeing independently created by a team of experienced space travelers.
---
#humblebrag

Gabe, wake up. Wake up! – Penny Arcade

If you're a fan of games like Spelunky and FTL: Faster Than Light — roguelikes with a penchant for precariousness and uncertainty — you owe it to yourself to give Amazing Discoveries in Outer Space a shot. It's an inventive game that skillfully captures the perils and intrigue of space exploration, wrapping it up in an endlessly replayable package. – Hardcore Gamer

The aesthetic is across-the-board beautiful, the designs are unique and intelligent, and the gameplay is remarkably enjoyable. If you've ever dreamt of exploring the final frontier, this game is for you. – BagoGames

It's the sort of game that's easy to pick up and play when you've got a spare twenty minutes to waste, although that 'twenty minutes' will often turn into hours upon hours of enjoyable Space exploration. – Use A Potion
---
OUT NOW: The Potted Plant Update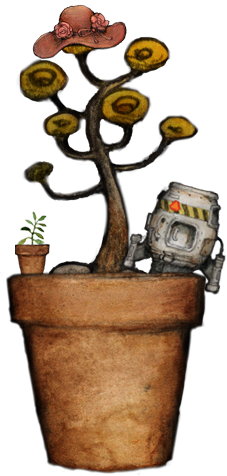 We are humbled and grateful for the reception of 'Amazing Discoveries In Outer Space'. We value all the feedback and praise we have received after the release and now we want to give something back by releasing the first content update for ADIOS.
This update is aimed at making the game more accessible to new players as well as offer a deeper experience for our hardcore fans
The Potted Plant contains…
An updated camera that greatly improves navigation in asteroid belts.
Press L1 to toggle between automatic and manual zoom-levels
A new spaceship, configured to better suit inexperienced players
Potted plants!
Property descriptions for the different spaceships and astronauts on the customization screen
Extended your wardrobe by discovering a new set of Mass amplification devices
A monolithic mystery!
New forms of Life that Rock n' Roll
Improved sound quality
Bug fixes
Secrets!
---
Listen to the soundtrek
[soundcloud url="https://api.soundcloud.com/playlists/192174552″ params="auto_play=false&hide_related=false&show_comments=true&show_user=true&show_reposts=false&visual=true" width="100%" height="200″ iframe="true" /]
---
Tweets!